But only in fresh snow
I have skylights in my kitchen and two bathrooms. All of them are still darkened by a thick covering of snow. Not so my Solatube! Its small dome dropped the snow almost instantly, so I have lovely light in my livingroom.
I'm still not sure my plants will produce vegetables for me as a reward for giving them Solatube light, but I LOVE how my livingroom looks on days that are dark outside ~ even when there's snow falling and covering my skylights, the Solatube is bringing in light. My livingroom used to be so dark, so dingy looking most of the time, now there's this lovely light that totally transforms not just my room, but my attitude. I feel so much more energetic in the lighter room. If I had a mirror at hand, I bet I'd see that I'm smiling more!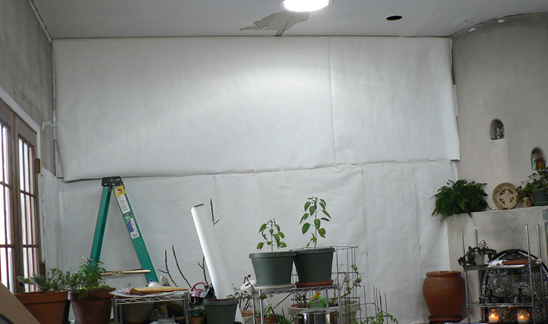 Orca Grow Film has been added at the top of the wall, there still needs to be trim at the bottom to conceal the irregularity of the edge
You can see where the large leak was. It caused the ceiling texture to form a rather impressive bulge filled with water, that we punctured and drained. Since the texture was stretched out of shape we decided to remove it so that the wallboard could dry.
The leak was a result of the fellow who put my Solatube in, deciding not to put any roofing material around it, to seal it so that water wouldn't come in.
As a result I had a quite spectacular leak.
As an aside, I love the green ladder. It's my friend's. He got it last year at Home Depot, on sale for $15. Envy!!!!
12/24/2013 ~ Now that I found my small light meter from long ago, I'm able to measure light, rather than guess and favor my new Solatube.
It turns out that my Solatube adds what appears to be minimal measureable light. Though, in all fairness to the Solatube, the light meter may be calibrated to begin measuring only at a fairly high level of light, to begin with. My livingroom was very dark prior to installing the Solatube, so while the Solatube brings the light up to a level of about .5 to 1 Lux, whereas the skylight in my kitchen registers a 3 when I hold the meter up, nearer to the mouth of the skylight, I don't know how dark the livingroom was. It may be that the Solatube is increasing light by 2 Lux, only 1.5 of that light was too low to register.
I'm glad I have the Solatube, despite it not delivering nearly the amount of light I had thought it would.
Now, I'm going to look into narrow skylights.